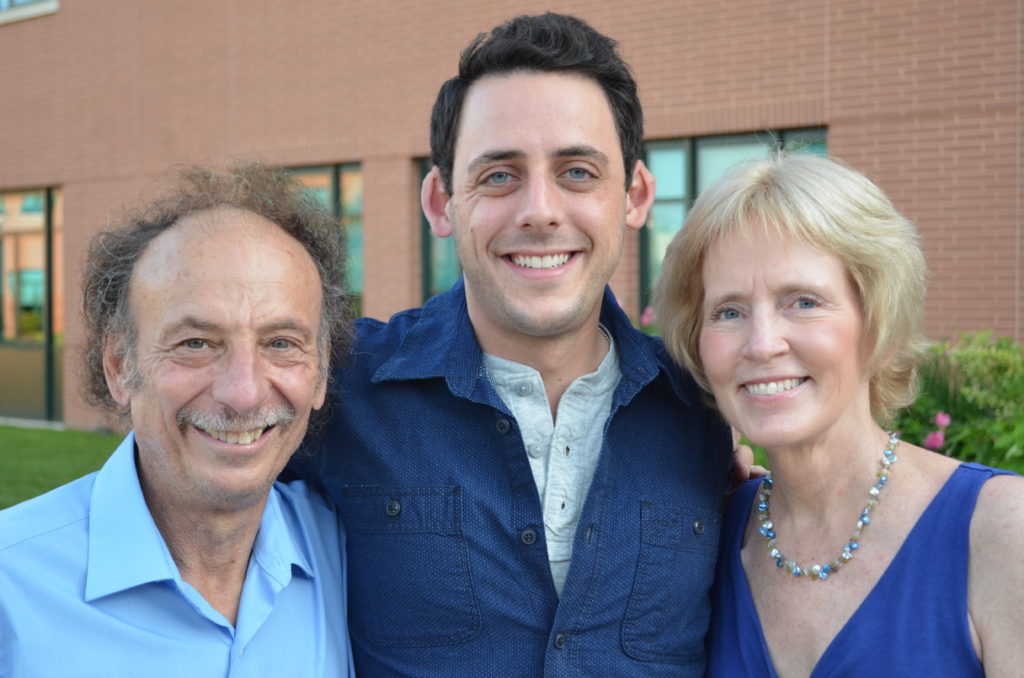 "Dr. David Sanfred, our family practitioner, walked into my room at 6:45 a.m. and stood at the end of my hospital bed. "Maureen, we're getting ready to send you home soon," he said. And then, "It's time to talk."
It was time to face what I'd avoided all week.
"I'm sorry to tell you, but it's very serious." Though by our family's side for many difficult situations, I'd never heard Dr. Sanfred's tone this methodical. "We thought it was Stage 1 but the cancer metastasized from the colon to your umbilicus and has advanced to Stage 4.""
–From Room for Grace by Daniel and Maureen Kenner
Daniel Kenner rocked out to Bob Dylan's "Knockin' On Heaven's Door" while other infants sang "Mary Had A Little Lamb." A proud member of Actor's Equity, SAG-AFTRA, and National Players Tour 60, Daniel was a Presidential Arts Scholar at George Washington University and Scholarship recipient at The British American Drama Academy. Directed the Washington D.C. premier of Sarah Kane's Crave. Author of the manuscript, Roux. Winner of the Rhode Island Playwriting Festival for his World War II letters home drama, Fields of Sacrifice. Adapted Les Misérables for high school stages.
Maureen Kenner's heart was in the classroom. For thirty-five years she was a Special Education teacher in the Providence Public Schools. Born and raised in Dobbs Ferry, New York, Maureen graduated from Rhode Island College with a degree in education and later earned a Master's Degree from Providence College. Maureen was a vital influence at the Vartan Gregorian Elementary School at Fox Point, working tirelessly as a mentor for the betterment of all children and their families. Honored with many accolades throughout her career, Maureen was awarded Providence Teacher of the Year in 2003. Living with cancer, as a model patient, Maureen exemplified integrity, courage, grace, and hope. For thirty-one years, through sickness and health, Maureen was the beloved soul mate to the late Jacob "Buddy" Kenner, her intense love recognized in 2016 as a Rhode Island Caregiver of the Year.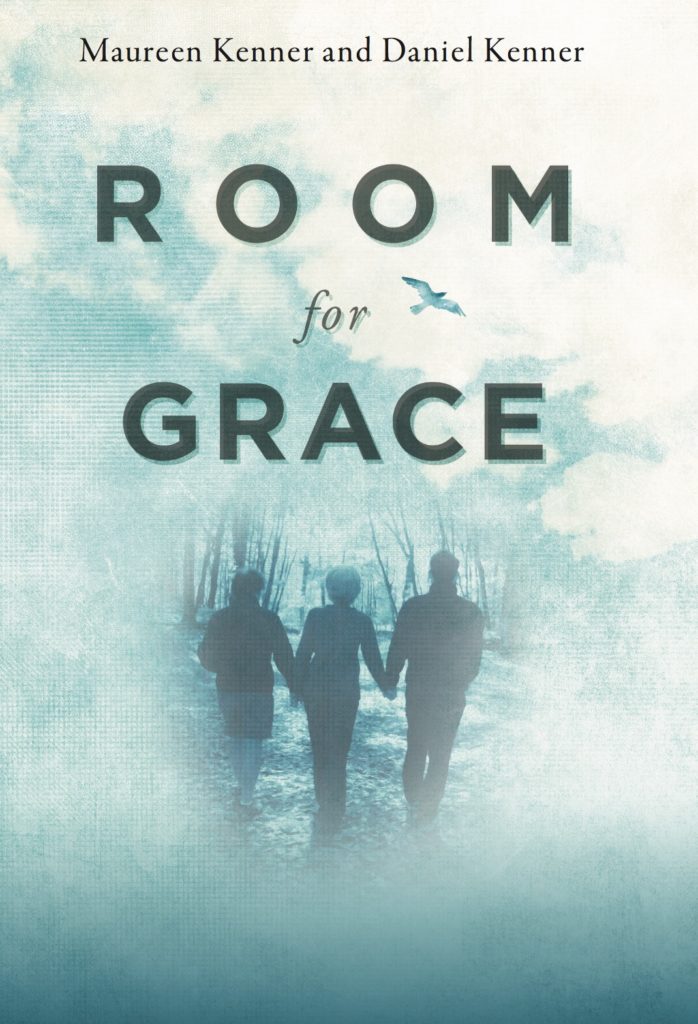 Book Description:
Stage 4 cancer for her and a debilitating disease for her husband: life crashed down in an instant. Maureen Kenner found resilience, however, in the lessons she learned from her Special Ed students in Providence, RI. Her students lived with their hearts opened despite struggles of the highest magnitude. Through these students, Maureen gains courage, humor, and the strength of spirit to face her devastating realities, head on. Maureen's oral history was captured by her son Daniel who tenderly wrought this book out of their recorded conversations. Through anecdotes and hard-earned lessons, Maureen tackles challenge after challenge and reframes daily struggles with a positive outlook allowing her to transcend and conquer mortal fears with dignity and room for grace.
Interview:
What first inspired you to write or who inspired you?
Both my parents were teachers and avid lovers of the arts. As a young boy I remember playing all the time. I didn't need much -
blocks, Legos, art supplies, a football or a Wiffle Ball bat. But I also remember buckets and buckets of books in my room and my mom's classroom and visiting the Rochambeau Library up the street from where I grew up and that's not to mention my dad's bookshelf. He was a director and a theater professor at RISD when I was growing up and I remember discovering all these voices in the worlds of Tennessee Williams, Edward Albee, Arthur Miller, Artaud. The readings with my mom always tended to be a little lighter: Chris Van Allsburg, Lowis Lowry, Eric Carle, "The True Story Of The Three Little Pigs," "The Giving Tree," "Where The Sidewalk Ends." But then she left out a John Grisham book in the kitchen one summer and I remember reading that when everyone went to bed. I had the Pawtucket Red Sox game quiet on my radio to hide my audible gasps of suspense. I think it was "The Client." I was like ten or eleven years old. Ha. But of course, there was one other member of my family, and that was Bob Dylan. I grew up in a household where his writing was more important than Shakespeare. Or the Shakespeare of our time, but nonetheless, um, vital learning let's say. Of course there were his classics from the sixties, and there his writing imitated and honored and birthed from the greats - Brecht and Rimboud and William Blake and Ginsberg and honestly, the Bible – but my favorite growing up was "Blood On the Tracks" because it felt like I was getting closer to Bob Dylan himself. But then in college I'd say the playwrights that really affected me, their philosophy, their style, their voice were probably Samuel Beckett, Sarah Kane, Howard Barker, Annie Baker, Sarah Ruhl, Stephen Adley Guirgis.
At what age did you know you wanted to be a writer?
I guess I grew up thinking I was going to be a quarterback like Joe Montana or a shortstop like Omar Vizquel but I was always too much in my own head not to do something creative. When Dad ran the theater department at RISD, I always wanted to be on set talking to the actors, handling the tools, trying on the costumes, watching from the wings and every angle of the auditorium. In high school, my grandmother passed away from Alzheimers and then shortly after my best friend died in the Station Night Club fire, and writing really became my retreat, my solace, my safe place. I'd write furiously. And then throw it in the trash. And start over. It wasn't until after my mom and dad passed that I found a lot of these early writings. My mom had gone into the trash and saved them. I mean, I guess she knew I'd need them eventually or want them. And of course, she was right. There were also notes I wrote to Santa Claus. Those were great to read. They make me look like I was an easy child. I was not. But to answer your question, it might not just be writing, but I like working with a creative element. I've painted in the past and really enjoyed it but my true passion, and I'm definitely hoping to get back to it now that Room For Grace is completed and published, is working on the stage and on film. I really want to work outside of my own writing, to work in somebody else's world and in an ensemble again.
Do you take notes when reading or watching a movie?
I don't but I see movies and plays constantly. I used to be a better reader. In 2007 I studied at the
British
American
Drama
Academy
and I'd stay late in the library and read a play a day. I did that again in 2011. Now, I've been seeing so much more. That's one of the benefits of living in
New York
. There's so much to see. And I don't think I'd trade that for anything. When I visit a
new city
the first four things I look up are parks, record stores, restaurants and what's on stage at the moment. I just saw "Girl From The North Country" at the Public, Mike Birbiglia at
Cherry Lane
and "Long Day's Journey Into Night" at BAM. This past summer was also the summer of Cirque Du Soleil. We saw two of them. That is the "superhuman, leave the theater and feel unable to do anything" kind of theater experience that I love. It's just a punch in the face. You don't breathe for two hours and are just in awe of the strength and poise and grace of the performers. Not to mention the sets and the music and the lights. It's just a wow. I think the best play I saw this year was "Is God Is." I read somewhere that Lin Manuel Miranda and his family don't talk about the play they just saw until they're at least a block away. I love that idea. Just let it sink in. Feel it in your bones.
Has writing always been a passion for you or did you discover it years later?
Writing is my go-to when my world and my emotions are in flux. When there is turmoil around me. When Mom and Dad were diagnosed I didn't know any other way to help. I knew if I started a writing project it would keep me close just because I could be close to the story. I think it was a true gift for both my mom and for me.
Can you name three writing tips to pass on to aspiring authors?
Stay hydrated. Get up out of your chair every few hours. Get plenty of fresh air. Everyone's going to do it their own way, that's why style and voice are so personal. The story of Kerouac rewriting and finishing the "On The Road" draft was tremendous, just on a hundred and twenty foot long scroll, typing like a hundred words a minute. Not all writers can do that. Everyone's going to have their own process. But saying that, you have to know your characters. Their follies. Their faults. The in-between. That way, the characters can just flow. Most writers know their first draft isn't going to be the last draft so that isn't really a tip, but it's about just writing. Keep editing. Do the story in your heart and in your soul or the story justice. Make it real. Make it wild. Keep the audience guessing. "Room For Grace" had nine drafts, I would've done more but I think I would've driven all the people around me crazy.
Do you let unimportant things get in the way of your writing?
Like watching "The Office" reruns or checking Twitter constantly or doing Fantasy Football Mock Drafts in June or trying to come up with board game ideas or sneaking into movies, yes, absolutely. I've learned not just to sit there, unproductive, I'd rather come back to the writing when it's pressing to be written or edited.
What hours do you write best?
I used to write really late at night, maybe
nine to two
, but now I try to break it up throughout the afternoon, like eleven to six.
What are you reading now?
Earlier in the year I read a book based on a quote or a blurb I saw from Charlie Kaufman, uh, he wrote "Eternal Sunshine" and "Adaptation" and "Synecdoche, New York." The quote was for a book by Iain Reid, "I'm Thinking Of Ending Things." I had auditions in
Atlanta
and I was alone in an AirBnB during a rainstorm and the writing was so claustrophobic, so thrilling, so suspenseful and the lights kept flickering on and off during the mind-bending climax of the book - there was a pattering and a scratching at the windows, I was freaking out. But it was all because of the writing. Seriously. Really good. So, I just picked up his new book, "Foe." And we're getting our book club back together for maybe the third time and this time we're reading "The Sympathizer" which won the Pulitzer back in 2016. This summer I read Anthony Bourdain's "Kitchen Confidential" and "Robin" by Dave Itzkoff. Robin Williams, man. Now, there's a flash in the pan. What a mind.
Daniel Kenner is the author of the newly published, Room For Grace. Daniel wrote Room For Grace after conducting an oral history with his mother, Maureen Kenner, on her thirtieth wedding anniversary.
Through anecdotes and hard-earned
lessons, Maureen tackles challenge after challenge and reframes daily
struggles with a positive outlook allowing her to transcend and
conquer mortal fears with dignity and room for grace.
More information can be found at

www.RoomForGrace.org

. Room For Grace is partnering with different organizations and 10% of each book purchased will be donated. New organizations will be selected every 1,000 books sold! The first program Daniel has chosen to donate to is Eye to Eye. Eye to Eye began in Maureen Kenner's Room 4. The program chiseled through structure and uncovered a remarkably beautiful approach into a child's life. Once a week the members of Eye to Eye talked openly about learning disabilities. Maureen always remembered when a mentor revealed he had spent most of third grade in the bathroom. He had figured out when it would be his turn to read and, embarrassed by his dyslexia, went to the bathroom to hide out. Another positive aspect Maureen loved about Eye to Eye was the classroom-based mentoring. They college students would come and work with her "Lego" kids, the kids who saw the world in a mechanically different way, who thought outside of the box, who could build things with their hands. Maureen's students were mentored and followed through middle school, high school and onto college. Eye to Eye's mission is to improve the life of every person with a learning disability. They fulfill their mission by supporting and growing a network of youth mentoring programs run by and for those with learning differences, and by organizing advocates to support the full inclusion of people with learning disabilities and ADHD in all aspects of society. Mentors talk openly and bravely about their experiences. Mentees realize they are not alone, sometimes for the very first time. They see someone who was once just like they are today. More importantly, they see someone they hope to be tomorrow.